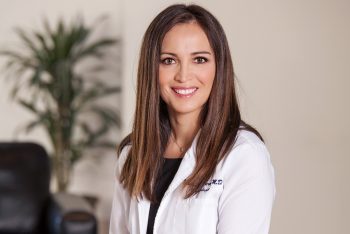 Tania Rivera, MD
She is a rheumatologist with more than 10 years of experience.
Contact Information
About our Doctor
---
Dr Tania Rivera was born and raised in Chile. After finishing medical school and internal medicine residency Dr Rivera chose to work in rheumatology research.
Dr Rivera received her Rheumatology Fellowship training at the New York University Hospital for Joint Disease. During her fellowship training she continued to work in research studies focusing on the treatment of lupus nephritis, and lupus and pregnancy.
She worked for years with Dr Jill Buyon in the Research Registry for Neonatal Lupus. This registry was established to investigate the origin of neonatal lupus and to help in the counseling of mothers of children with neonatal lupus.
Prior to moving to San Diego, Dr Rivera was working at an Osteoporosis Center in Princeton, NJ. Dr Rivera's interest in osteoporosis has made her research for the newest medicines available in the market, and future medicines which are still under investigation. She is certified by the International Society of Clinical Densitometry.
Dr Rivera treats complex autoimmune conditions in outpatient and inpatient setting. She is qualified to treat all rheumatologic conditions, all forms of arthritis, other autoimmune and inflammatory disorders as well as osteoporosis. She also has specialized interests in Lupus, Rheumatoid Arthritis, Behcet's disease, Psoriatic Arthritis, Sjgoren's Syndrome, Gout, and Fibromyalgia.
Dr Rivera has a special interest in Obesity Medicine. She is Diplomate of Obesity Medicine Society. She believes that obesity has a high impact in joints, and overall health.
When she is not at work, Dr Rivera enjoys spending her free time with her husband and her 2 sons.
Volunteer Work
---
UCSD student-run free clinic
Project Access, Champions of Health
She volunteers at UCSD student-run free clinic which provides accessible, quality healthcare for the underserved in a respectful environment where students, health professionals and patients learn from one another. She also works as a Per Diem at a community clinic, Family Health Centers of San Diego, for the underserved population. Dr Rivera participates in Project Access which helps uninsured patients get access to specialists.
Board certification
American Board of Internal Medicine
Subspecialty Certification in Rheumatology
Education
Medical: Universidad de Concepcion, Concepcion, Chile
Internal Medicine Residency: Universidad de Chile, Santiago, Chile and Beth Israel Medical Center, New York, NY
Rheumatology Fellowship: New York University Medical Center, New York, NY
Hospital/academic affiliations
HOSPITAL
Scripps Memorial Hospital | La Jolla, CA
Palomar Medical Center | Escondido, CA
ACADEMIC AFFILIATIONS
Voluntary Clinical Instructor, Student-run Free Clinic, University of California, San Diego
Family Health Centers Of San Diego (Per Diem)
Society memberships
American College of Physicians
American College of Rheumatology
San Diego County Medical Society
California Medical Association
California Rheumatology Alliance